Meetings & Events... Mark Your Calendar & Come Participate With Us!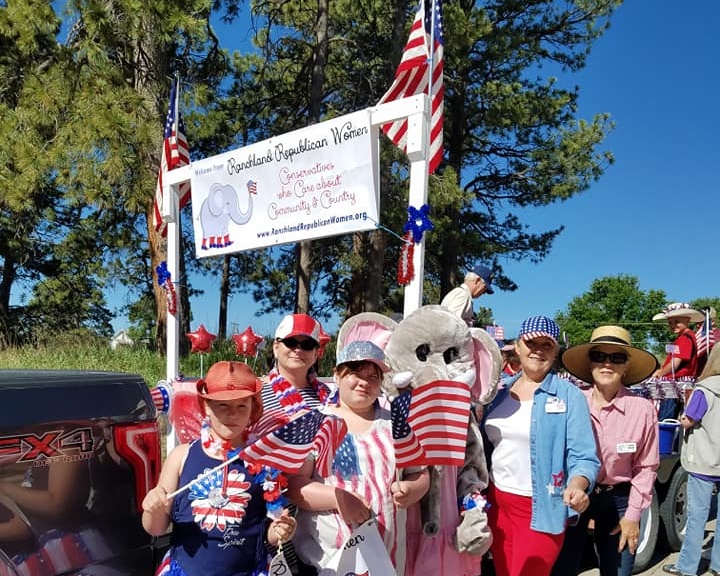 Ranchland Republican Women's slogan is, Conservatives who Care about Community and Country!
To put those words into actions we gather together to meet, plan, organize and then we get out there and we participate (or lead) important, political, educational or just plain fun area events.
We generally have a meeting or event each month and we encourage our members to participate as much as they can... But we do understand everyone's lives are busy - so please know, it's okay if you can't be at every meeting/activity...
Come when you can... Help where you can... Do what you can!
Membership is only available to Republicans, however if you are an Independent, you are welcome to attend our meetings and learn about us and about Conservative values and principles.

2019 Meeting Schedule
Regular Meetings - 1st Tuesday of the Month - 7pm
Elizabeth Library - 651 Beverly St. Elizabeth
Next Meeting - July 2nd
Upcoming Monthly Meetings

Aug 6th - Sept 3rd - Oct 1st - Nov 5th
Tidbits from the CFRW
2019 Spring Board Meeting
Ranchland Officers, L-R,

Pres - Marlene Groves, Treas - Jackie Tugwell and Secty - Karen Shipper. A good team that worked the CFRW 2019 Spring Board Meeting & Convention (hosted by Ranchland RW).
Groves was humbled to be voted an NFRW Delegate!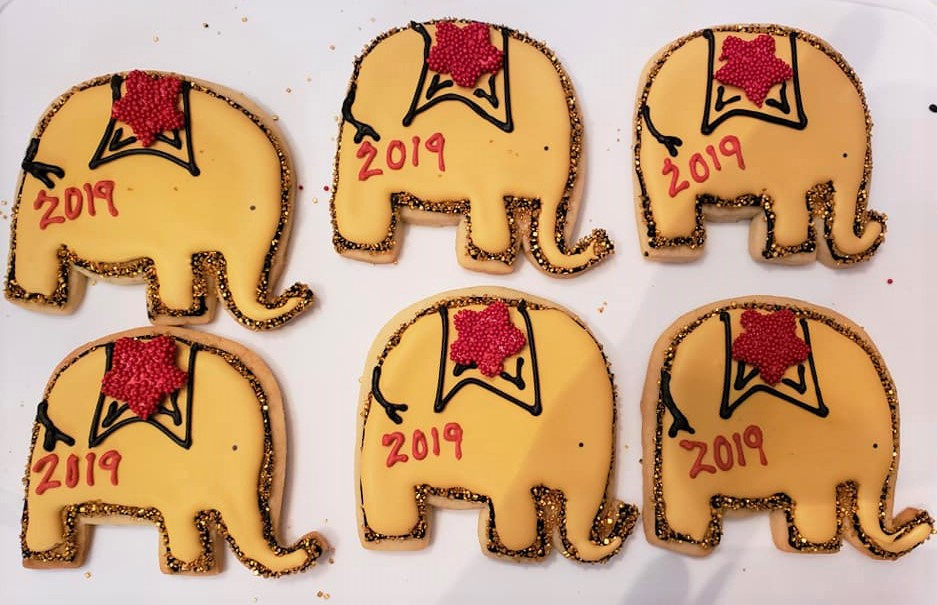 Shipper is serving on the Nominating Committee and Tugwell was honored to be appointed as the new CFRW Centennial Chair.

Look at these festive cookies which were a special treat for Centennial Club Members! YUMMY!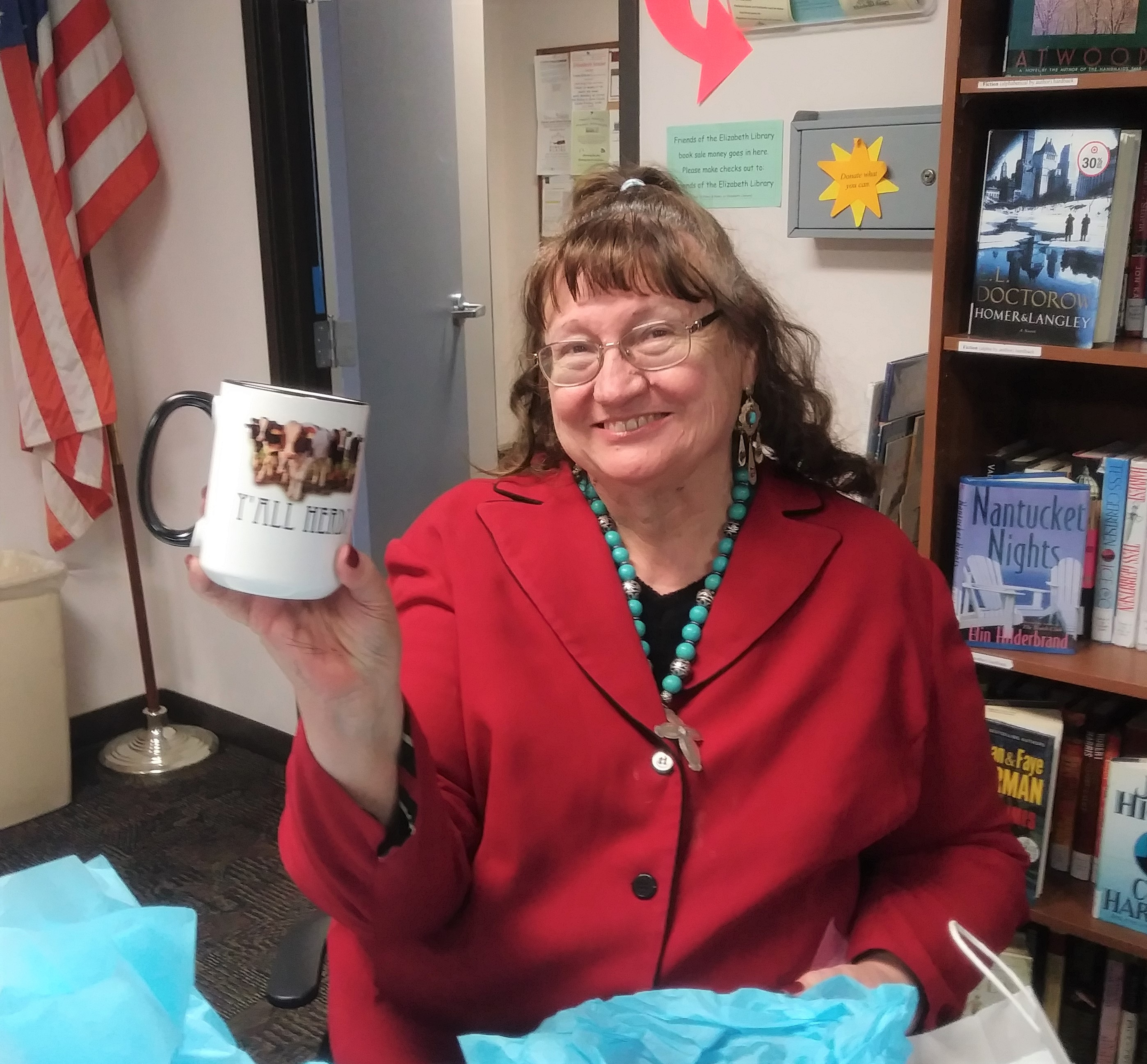 Ranchland RW's 2nd VP Mary Steen is all smiles at one of our meetings as she WINS the nights meeting gift, donated by Leslile Titus, and purchased from the Clever Cow, a new gift store owned & operated by RRW member Shari Norton (otherwise known as Mrs. Sheriff, as her husband is the Elbert County Sheriff Tim Norton).
June 8 Highlights
CFRW District IV So Meeting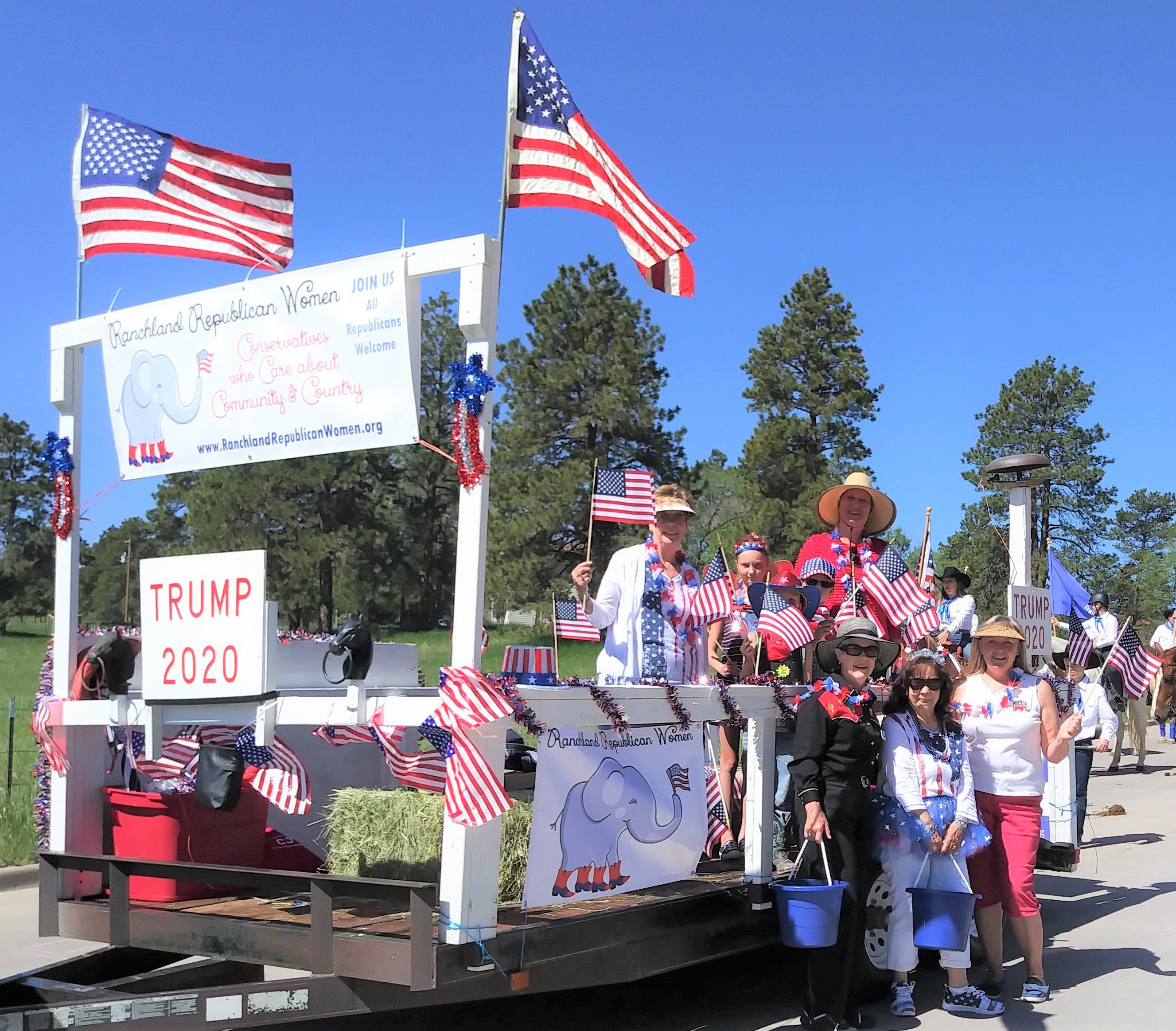 A beautiful Colorado day that started with
a float in the
Elizabeth Parade
supporting
our community
and promoting Ranchland RW
& Trump!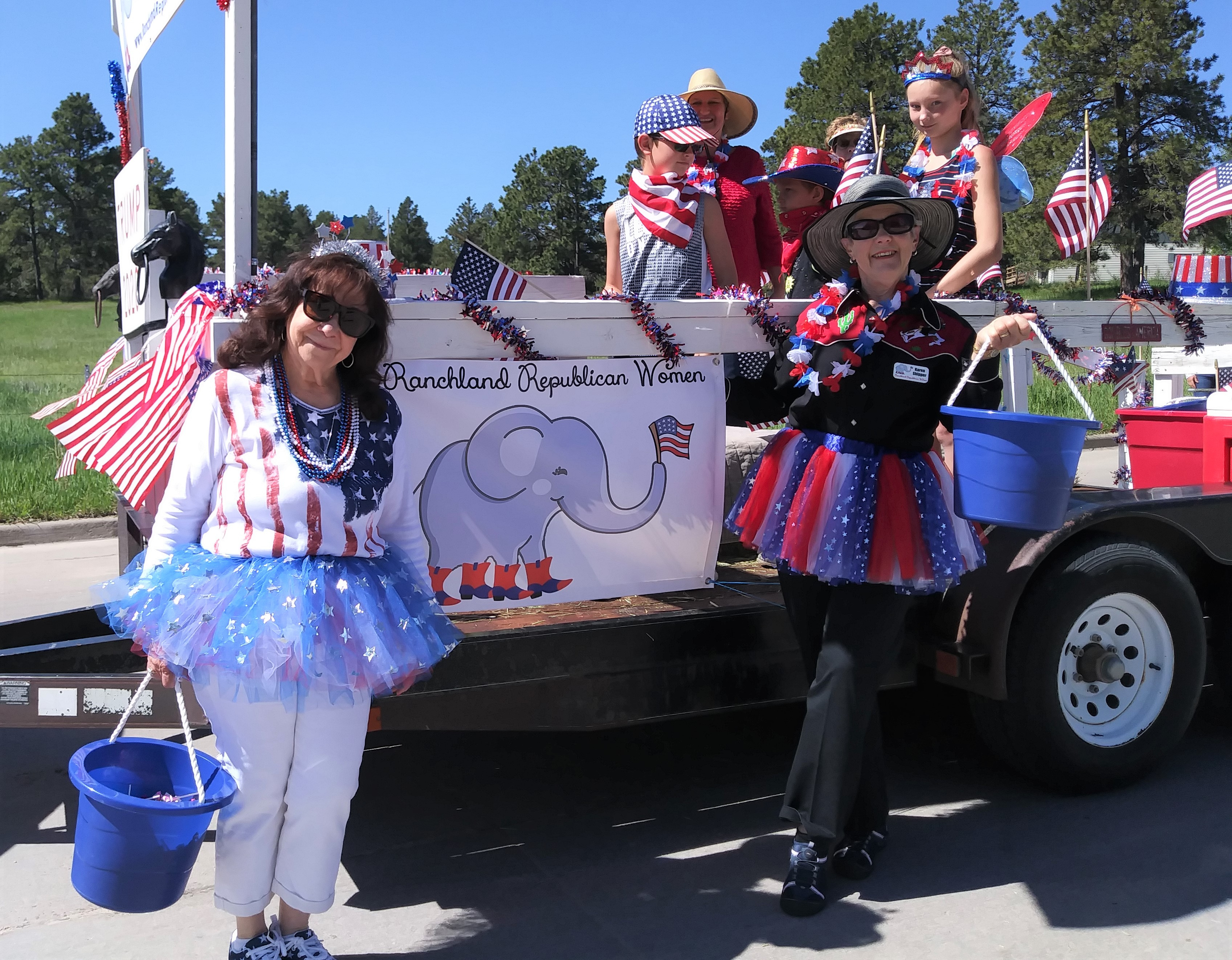 Our bucket gals, in American Tutu's were CFRW President Marilyn Harris and RRW Secretary Karen Shipper who spread cheer and candy throughout the crowd.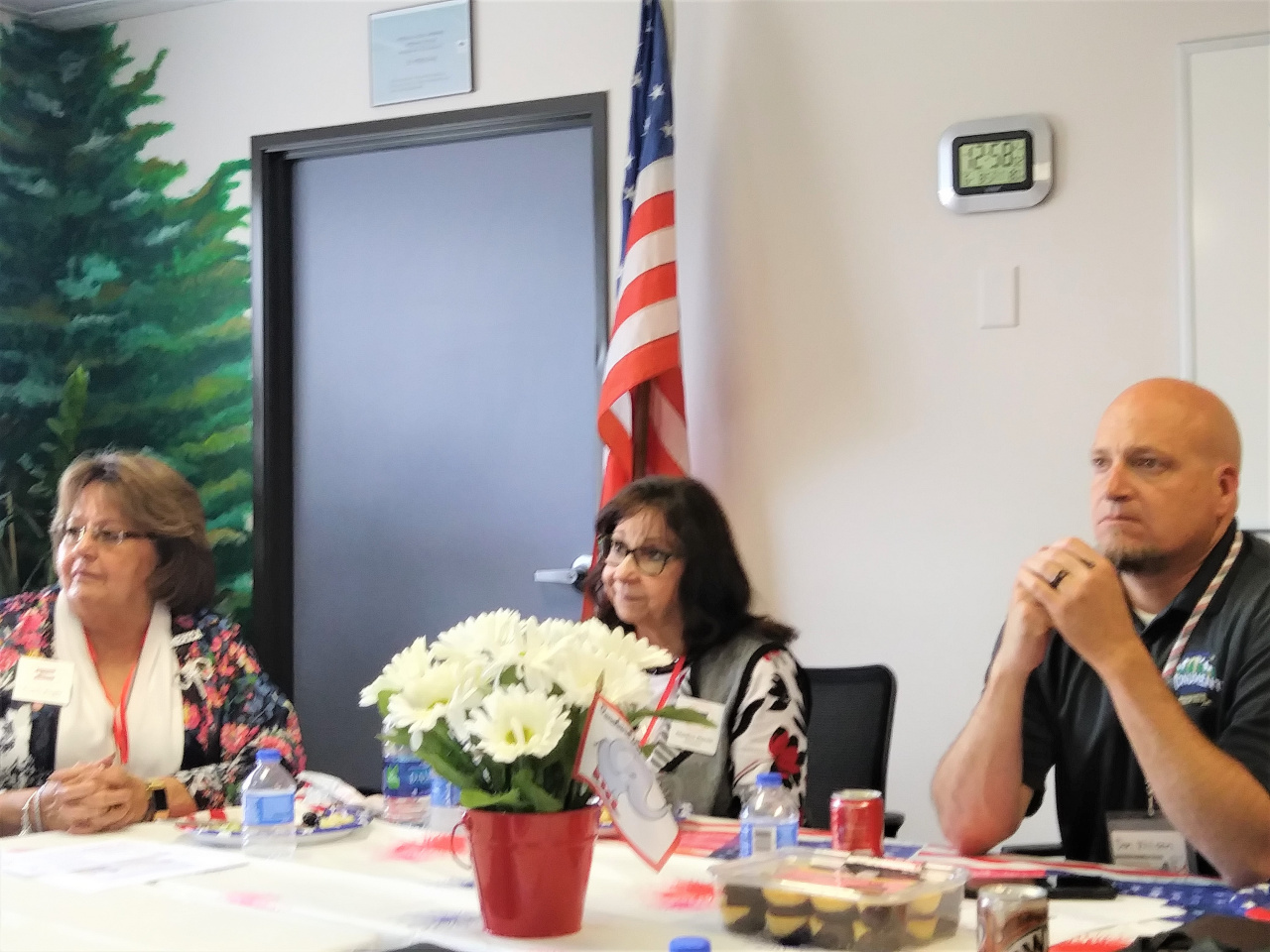 L-R: CFRW 1st VP Brenda Bright, CFRW President Marilyn Harris, Monument Mayor Don Wilson.
Don was our opening speaker updatin on the Coloradans Vote efforts with petitions against the NPV (National Popular Vote).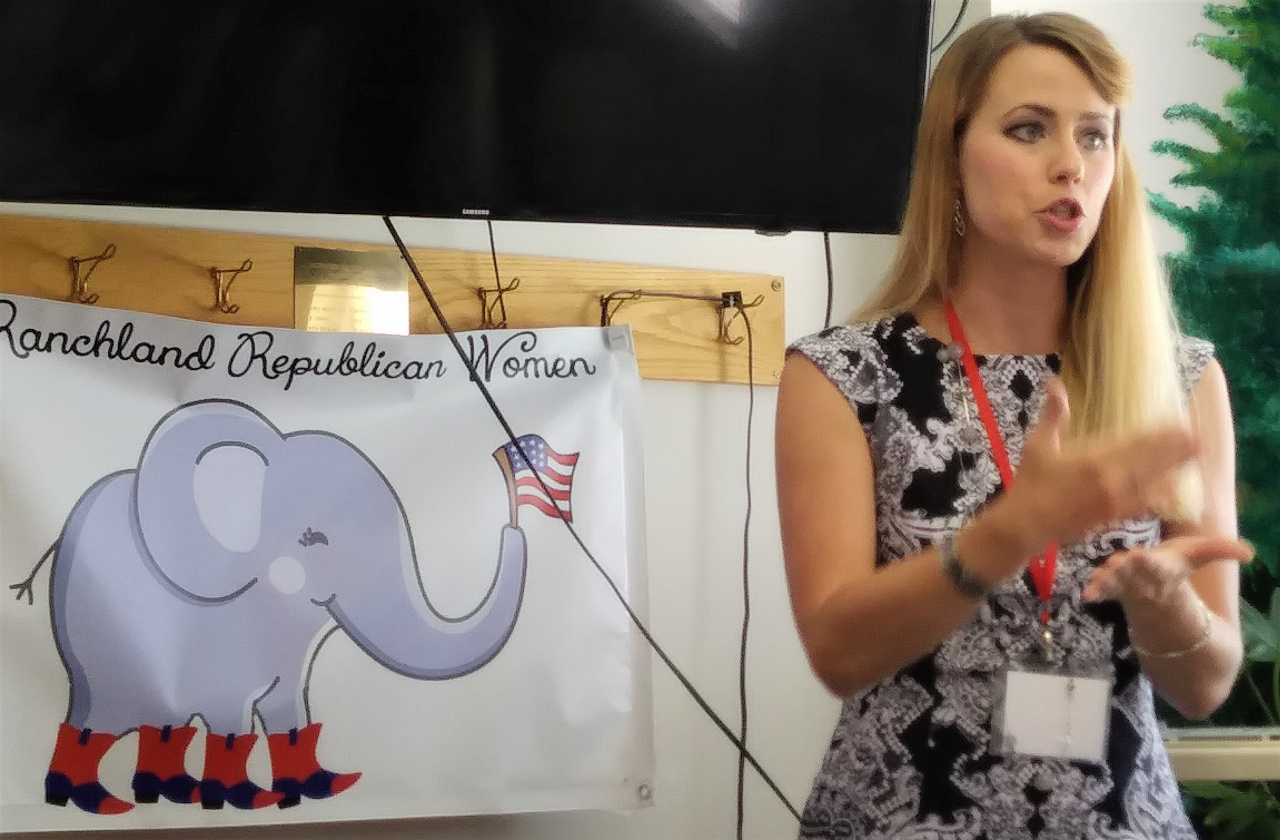 Our closing speaker was Colorado GOP Vice Chair Kristi Burton Brown
was an inspiring dynamo talking about the need for improved messaging, especially to women,
(Republicans, Independents and even Democrats).

Above:
Former Gubernatorial Candidate & Elbert County Citizen, Greg Lopez

explained how his group went from a campaign team to become the new (exciting social media group) Decide Colorado. He plans to work on specific issues and he reminded us all that "United We Win and Divided We Fail!"
Below:
Many helped with the meeting, from CFRW 3rd VP Joan Griep
to RRW Secretary Karen Shipper, to RRW Member and new CFRW Club Organizer Kerry Freose, to RRW President Marlene Groves, but none worked as hard as RRW Member Kathleen Bartik (& her granddaughter Lily) who donated and prepared our meal. (dang it she blinked in the photo)